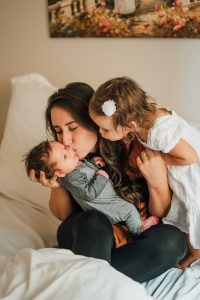 It's 2:30 in the morning and I'm, thankfully, starting to get some shut-eye – or so I think. The little one is finally sleeping soundly in her crib in the corner of the bedroom, when tiny cries begin to pierce the quietness in the room. I have no choice but to shoot out of bed because, well, it's my turn to get the baby. Not an issue at all, right?
Motherhood is amazing, honestly. You can't compare the serenity you feel when your baby falls asleep on you or the pure sense of adoration you experience when they bury their tiny button nose into your chest. I am even more in awe because my spouse and I just had our first child. All of it is new to me, to us. There are two sides to every coin, however, and I can't deny that the sleepless nights take a toll on me.
My husband runs a business and so do I. He goes on regular trips to make sure everything is going well. But luckily, my jewelry business allows me to stay at home with our baby as long as I need to. For now, I've taken a step back and let my team give me regular updates and feedback from clients. You would think that staying at home — and having a nanny — leaves me well-rested but taking care of the little one definitely takes a toll on me. So, I turned to Kedma skincare to keep me looking and feeling great.
Specifically, I exfoliate regularly with their Black Mud Mask which gives me that vibrant "new mom" glow that positively affects my disposition and that has eased my transition to motherhood. somewhat.
What's So Great About the Black Mud Mask?
Kedma brings the black mud of the Dead Sea to the Philippines through luxurious products like the Black Mud Mask. Well, the skincare brand actually has two black mud masks that I religiously use. One is the all-natural Active Mud Mask which boosts cell renewal and the Purifying Mud Mask which has the additional benefits of omega 3, pearl powder, and collagen.
My go-to Israeli skincare brand presents this all-natural active mask to all the ladies who want softer pores and more vibrant skin. The product combines Dead Sea black mud, Bees Wax, lavender oil, and avocado oil to soothe and moisturize tired skin. It also contains pro-vitamins B5 and E, which improve skin softness and elasticity.
Just like Kedma's Active Mud Mask, this black mud mask contains Dead Sea Black Mud and Bees Wax. It also includes lavender and avocado oils as well as pro-vitamins B5 and E. The product stands out because it contains collagen, omega 3, and pearl powder. These ingredients rejuvenate the skin and make it look more radiant.
I love having two choices. I usually use the active mud mask just to retain skin elasticity and moisture. But when I feel more tired than usual, I use the purifying mud mask to brighten my skin.
Either way, the application is fairly simple. After thoroughly cleansing my face, I simply apply the mask and leave it on for 15 minutes. When the mask is dry, I rinse my face with warm water by massaging the skin in gentle circles — this is an instant way to relax tired facial muscles, I must say.
How Does the Skincare Product Work?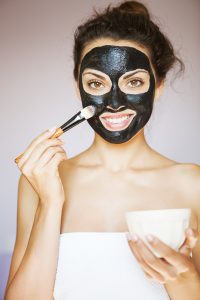 Isn't it just like any other mask that claims to make the skin look better? Why do you like it so much?
I'm more than familiar with this question because of how many times my friends have had to sit through me gushing about what Kedma's Dead Sea mud masks do for me. But, really, how can you not be impressed by a product with ingredients a premium as Kedma's?
These are what the mud mask ingredients do for my skin:
It contains salt and magnesium that strengthen the skin's barrier, boosts its elasticity, and removes impurities.
It is an antibacterial and anti-inflammatory skincare ingredient that seals in moisture without clogging the pores.
Like Bees Wax, it contains antibacterial and anti-inflammatory properties that heal acne. Its therapeutic scent is a major plus point.
This oil contains nutrients, such as potassium and lecithin, which moisturize the skin. It also acts as a natural sunblock.
Otherwise known as panthenol, this B-complex vitamin keeps the skin soft and smooth. It also aids in skin healing and hydration.
It is a powerful antioxidant that protects the skin from harmful UV rays. It also prevents skin damage due to free radicals.
This essential fatty acid is great for warding wrinkles and calming acne. It also strengthens the skin's barrier.
This protein, which makes up approximately 80 percent of the body, prevents fine lines and wrinkles. It improves elasticity and increases moisture, too.
This skincare ingredient stimulates collagen production and reduces discoloration, resulting in clearer and more radiant skin.
The mud mask actually comes in a special Kedma Skincare collection. The Black Mud collection includes mud masks, hair masks, shampoo, soaps, and body wraps. I go through the entire routine whenever I have enough time – and this is often next to impossible because I'm a new mom. Nevertheless, the opportunity to relax and the results of my pampering sessions are definitely worth the wait!
I Give My Best When I Feel Like I'm at My Best
When you're a new mom like me, you worry about a lot of things — am I feeding my little girl enough? Is she comfortable sleeping in that position? Should I wake her up? Should I change her diaper already?
If there's one thing I have learned so far, it's that I shouldn't forget to look after myself. After all, it's when I feel at my best that I can give my best. Fortunately, my spouse, the lolas, and the yaya are always ready to extend a hand when I need some time for myself to rejuvenate. In fact, that's exactly what I'm about to do right now. Time for another Black Mud Mask session!